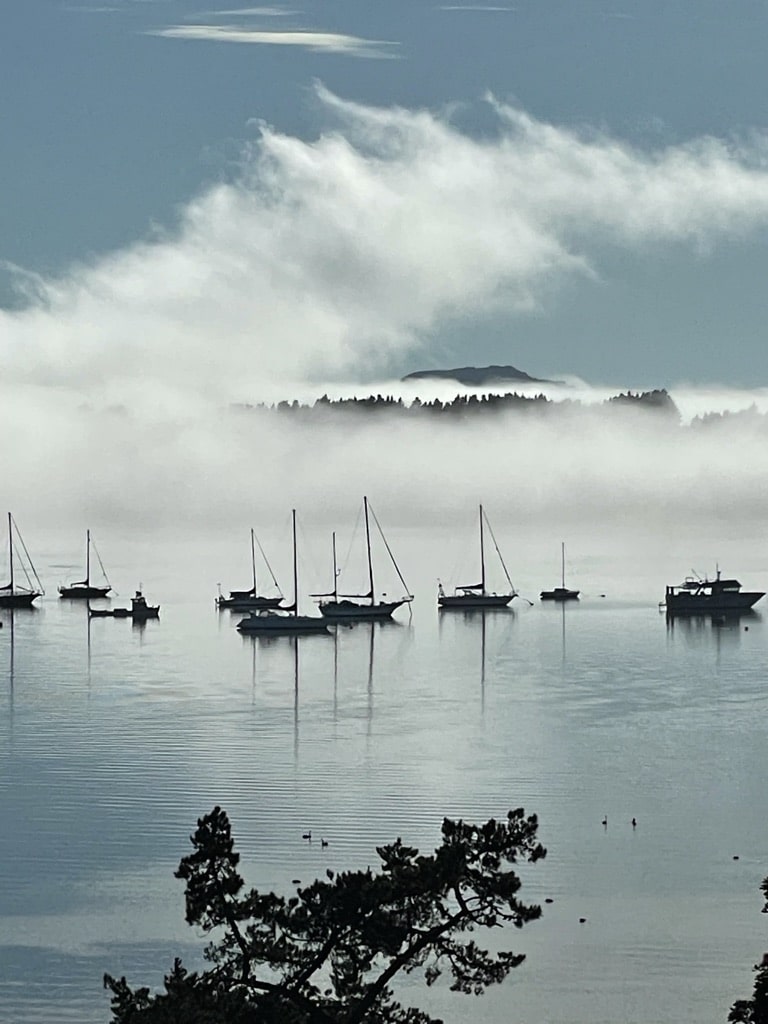 I did not work much at all in December.
I allowed myself to fully enjoy and experience my family who visited us in New Zealand from the U.S. It was the first time we had our four-year old grandson at our home, along with his four-month old brother and 3-month old cousin. It was pure delight!
When they all departed after Christmas, I tried to "get everything done" in a few days at home so I could focus again on my business and clients (my other family).
After taking down the Christmas tree and things, reorganizing and cleaning my pantry, kitchen and bedrooms, and everything else our hurricane of fun and love had created", I returned to my office to "catch up" on all I had put on hold in December.
This included a 4-week course that I hadn't even started, reconnecting with my mastermind group, getting the momentum going again with my social media presence, my longer meditations (instead of the 10-minute mini ones), writing my intentions for the new year, organizing my calendar for the first quarter…the list in my mind was limitless.
Overwhelm began to overtake me. Like a deer in headlights, I couldn't move forward.
My ego had launched me into "fight or flight" mode, with threats and lies that I would never catch up, my clients would all leave me, we wouldn't be able to pay our bills, I had no time for anything fun and I better get to work now or else!
When I recognized that familiar pattern, I stopped, took a BIG breath, turned to nature, took some more nice deep breaths, which created some space for me to slow myself down. 
Only then I was able to break down my office tasks into smaller bites, take each one a step at a time and remember every day is precious.
Most things are not an emergency. Most things can wait. I remembered the first thing I need to do is take care of myself. Next, care for those I love. And finally to the wider circle of the world around me.
With that in mind, I want to wish you all a happy New Year of 2023 and a Happy Lunar New Year. The year of the Rabbit begins on 22 January. The Year of the Rabbit comes with a wealth of potential for growth and abundance. The Rabbit is a symbol of fertility, prosperity, positive relationships, personal growth and new beginnings.
Astrology tells us too that 2023 is bringing a massive period of transition and change. Freedom, civil rights and humanitarianism are all going to be huge themes, as well as water (we've seen that already here in New Zealand and in California!).
And finally, the Super New Moon falls on Saturday the 21st at 12:53 pm PT/Sunday the 22nd at 9:53 am New Zealand. This new moon is powerfully ushering in the energy of new beginnings, personal transformation, and spiritual insights.
Chaos precedes change and change is uncomfortable and can trigger fear. 2023 will have much opportunity for personal growth and new beginnings, for both ourselves and for the planet.
How easy is it for you to slow down, reconnect to yourself and lean into trust, gratitude and love…especially during uncomfortable and triggering times?
Every day…Slow things down. Go back to the breath. Spend time in nature. Listen to your inner voice. Be love. Be gratitude. Be peace.
Make time today to set a new intention for the Super New Moon this weekend. Step outside and allow the earth's magnetic pulse to re-balance your energy field. Place your hands over your heart, close your eyes, take a couple deep breaths and feel the love within you. Feel your empowered presence around your intention and create a powerful new beginning. 
A few affirmations for 2023 could be…
I AM welcoming an expanded consciousness of love
I have everything I need to navigate through chaos
Abundance comes to me and through me
I AM never alone
I AM far more than my fear
I choose freedom and faith over fear
I AM in the rhythm and flow of ever changing life
I AM safe
I believe 2023 is a year that will bring chaos and confusion. It is not going to happen to you, it is happening FOR you. 2023 is the perfect time to take the leap and go within.
Wholeness is not something you get, it's something you remember. Sometimes you need that nudge to get back on the path. Sometimes you need a hand to lead you back home…and that's the magic of my work.
I am here to help you navigate the chaos of 2023 from a place of trust, inner peace, calmness and love.
I invite you to see what 75-minutes with me could do for you. Book a Breakthrough Session with me here and let's find out.
Much love