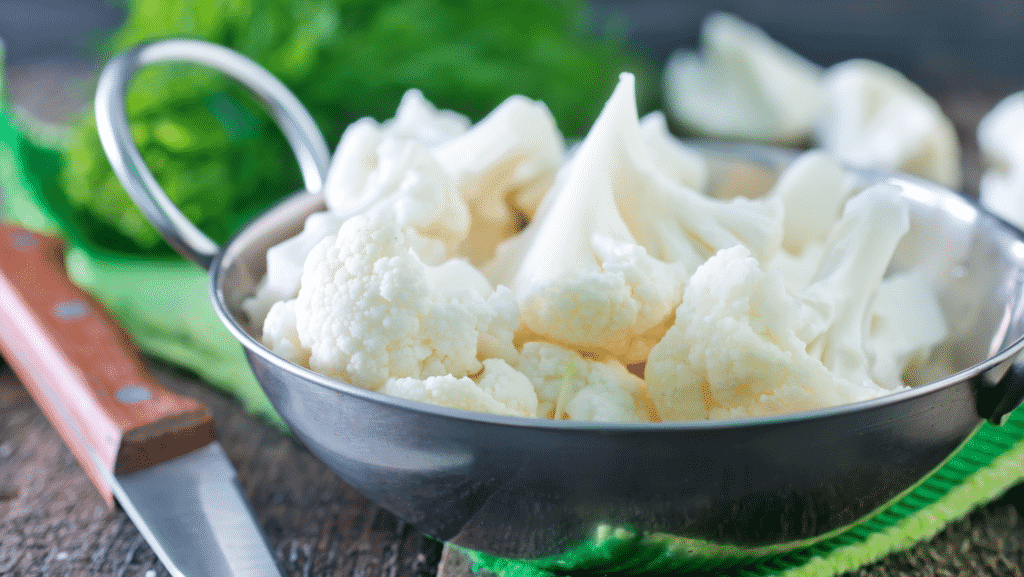 Recently I posted a photo of this yummy roasted cauliflower soup on Instagram and was immediately requested the recipe from several people.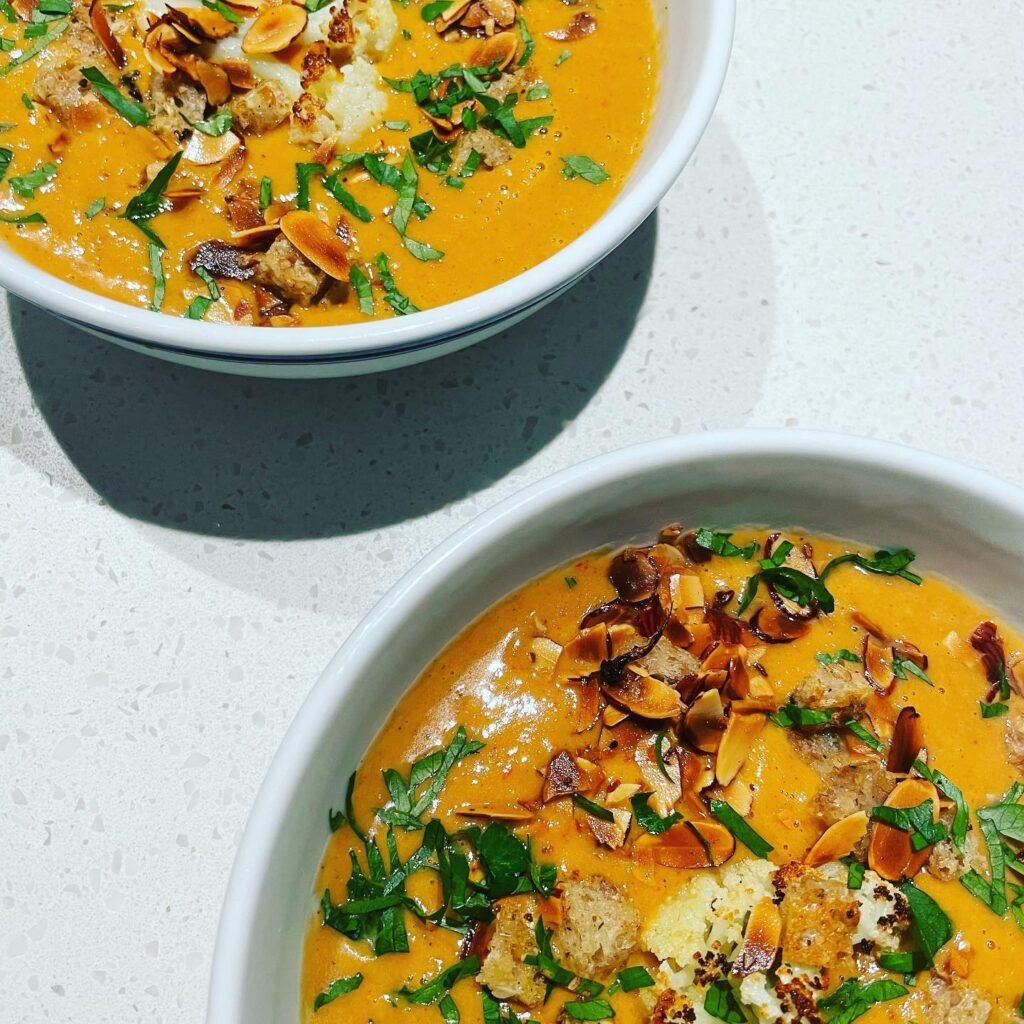 "Lockdown winter meals. Both Larry and I love to cook, especially with food grown from our garden and homemade sourdough croutons for crunch. This is roasted cauliflower soup. Yum!"
As with most of my cooking, I often start with a recipe and depending on what I have in my kitchen, I make it my own. This recipe is from Kathryne Taylor's beautiful book, Love Real Food (www.cookieandkate.com). Presently, this is one of my go-to cookbooks and one I highly recommend for vegetarian eating.
It's made with caramelized roasted cauliflower for maximum flavor. This creamy soup is creamless…the secret is in a bit of butter!
I followed this recipe almost to the letter. However, I did make the croutons for the top with my homemade sourdough bread and substituted cilantro for parsley. YUM!
CREAMY ROASTED CAULIFLOWER SOUP
You'll need:
1 large head of cauliflower, cut into bite-sized pieces
4 TBSP extra virgin olive oil
Fine sea salt
1 red onion, chopped
2 cloves garlic, pressed or minced
4 cups veggie broth
2 cups whole-grain bread cubes (½-inch thick)
¼ cup sliced almonds
2 TBSP unsalted butter
1 tsp lemon juice (I used more)
Pinch of ground nutmeg (I used freshly grated)
2 TBSP finely chopped parsley or cilantro
Preheat your oven to 425°F (or 220°C).
On a large baking dish, toss the cauliflower with 2 TBS of olive oil. Arrange it in a single layer and sprinkle it with salt. Bake until the cauliflower is tender and caramelized on the edges, around 30 minutes (keep an eye on it), tossing halfway. Leave the oven on.
While the cauliflower is cooking, in a soup pot, warm olive oil over medium heat. Add onion and a bit of salt. Cook, stirring occasionally until the onion is softened and translucent for about 5-7 minutes.
Add the garlic, stirring until fragrant (30 seconds), then add the broth. Reserve 4 of the prettiest of the roasted cauliflower florets for garnish, then transfer the rest to the pot. (Save the baking dish for your croutons.) Increase heat to medium-high and bring the mixture to a simmer, then reduce heat to maintain a gentle simmer. Cook, stirring occasionally, for 20-minutes.
Meanwhile, on the baking sheet, combine the bread crumbs and almonds. Drizzle with the remaining 1 TBS oil and toss until the mixture is lightly coated. Arrange in a single layer and sprinkle lightly with salt. Bake until they are both nice and golden on the edges, 7-9 minutes, tossing halfway.
Once the soup is done cooking, remove the pot from heat and let it cool for a few minutes. Then, carefully transfer the hot soup to a blender, working in batches if necessary. (Do not fill past the maximum fill line or you'll have a mess!)
Add the butter and blend until smooth. Add the lemon juice and nutmeg and blend again. Taste and add additional salt if necessary and more lemon juice if you want more zing. Blend again.
Top individual bowls of soup with 1 roasted cauliflower floret, a handful of the crouton and almond mixture, and a sprinkle of parsley or cilantro.
Enjoy!